Michelle at In The Life Of A Child, is doing a benefit for Rhett and Parker going through the month of May. All you have to do is go to this site, and donate a minimum of 5.00. For every 5.00 you donate you will be entered into a drawing for some amazing prints that Michelle has done. At the end of May all of the money raised will be split between our family and Parker's Family to ease the strain of medical bills.

While you are at her site you can also get the code for this button to add to your sidebar......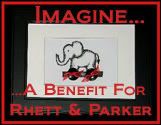 Also, don't forget to visit Jessica and Joey for their fundraiser for these two amazing boys too. Jessica is donating 50% of her online book sales from her Usborne Book Store from now until June 10th.

Have I ever mentioned how blessed we are to have such wonderful friends?

Rhett has been doing rather well the last few days. It seems like he is finally getting back on his feet after almost 2 months of recovery and complications from his airway surgery, and his bought with RSV. We have stopped his breathing treatments finally, and he is not gooping snot every time I turn around.

We are on a new insurance through the state for the next two months, and although I am very thankful to have it, there is alot of stuff that I am realizing that this new insurance doesn't cover when it comes to Rhett's care. Not to mention that we just received a bill from when Rhett was BORN that we had no idea we had. It hasn't gone to a collection agency...(imagine that, the kid is 2 1/2, and this is the first we see of it.) Because apparently the hospital has been fighting with the insurance that we used to have to get them to cover some of it. Are you ready for this? It was EIGHT THOUSAND DOLLARS.

I called today to ask what in the H-E-Double Hockey Sticks was going on, and they told me there was no way our old insurance was going to cover it, then asked me how much of it I could pay....today. Seriously??? Apparently they think that we can pull eight thousand dollars out of thin air. Wouldn't it be great if we all could do that?

The ever so nice lady then tells me that it will go to collections. Duh. Our credit can't get much worse at this point, go ahead, send it to collections.

I have just decided that I don't care anymore. I am going to quit stressing about the medical bills, and tell all of the collection agencies to shove it. This eight thousand dollars is in addition to the fifteen thousand that we already owe from his birth and NICU stay.

What do they want me to do, offer him back and say they can have him as collateral until we can pay them? Uh, No Way. I am way to attached to this kid.

It's a good thing I can laugh about all of this, otherwise I may just end up in the funny house.
We have alot going on in the next few months. Rhett has some really rough surgeries ahead of him. My heart breaks when I look at him sitting there so innocently not knowing of the rough road that lies ahead. I can't help myself but to go scoop him up, give him some loves, and whisper how much I love him. He giggles back at me and honks my nose, and for a little while all of my worries go away.